While searching online for "healthy eating Ontario" I stumbled upon
this
website.
"EatRight Ontario allows you to ask nutrition-related questions and receive feedback by phone or email from a Registered Dietitian. Nutrition tools and links offer many additional resources to support you in developing healthy eating habits for you and your family."
Wow, so instead of paying to speak with a dietician in person, I can call and speak with a dietician over the phone FOR FREE?!?
I checked around online and here are a few in-person options:
-
London, ON
- initial consultation: $90, follow-up appointments $30 for 30 minutes
-
Ottawa, ON
- initial consultation: $90, follow-up appointments $35 for 25 minutes
-
Toronto, ON
- initial consultation and plan: $125, follow-up appointments $5
I want to point out that if you're looking for a one-on-one ongoing relationship with a Registered Dietician, the in-person option is likely worth the investment and regular appointments would be more beneficial.
In my case, yesterday I called Eat Right Ontario to speak with a Registered Dietician about calorie intake, to ask a few questions about coconut oil, and about protein, fiber, carbohydrates, and healthy fats. I feel confident enough to design my own meal plan to ensure that I'm eating right (no pun intended) after having all of my questions answered, so for me, an infrequent use of Eat Right Ontario is perfect. If I wasn't, Eat Right Ontario has a
meal planner
too!
Just another tool in my back pocket to help improve my overall health!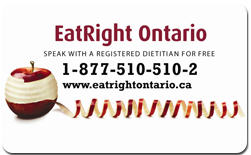 If you don't live in Ontario, does your province/territory offer a similar service?